12 Gauge Ammo – 2-3/4″ 1oz BRI Sabot Slug – Winchester Super-X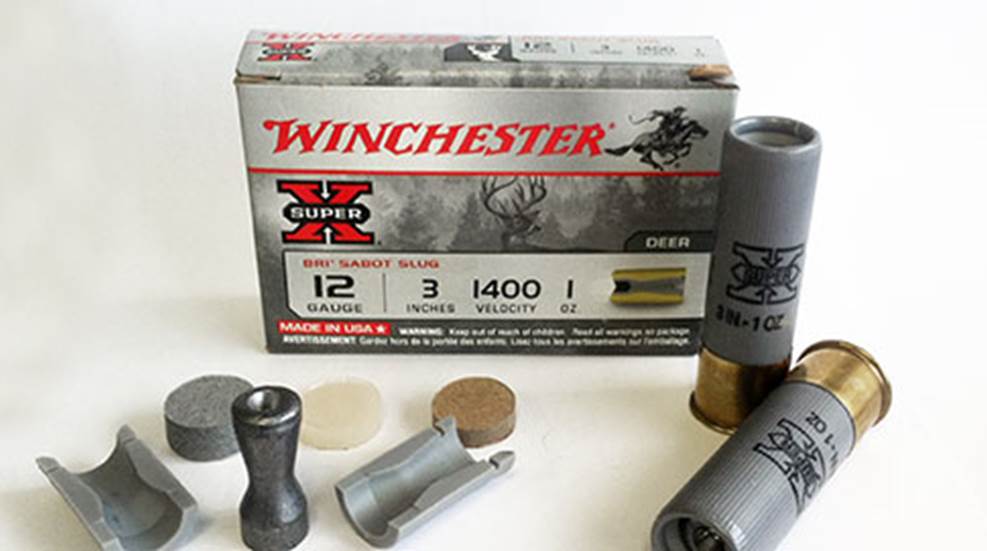 For superior slug performance you can't beat the stopping power of Winchester Super-X slugs. Specifically designed to deliver maximum accuracy
and tremendous energy deposit in shotguns with smooth bores it can be used
in rifled choke tube barrels or fully rifled barrels.Winchester BRI Sabot Slugs 3 inch ORDER NOW.
Winchester BRI sabot slugs ballistics
Depending on the model selected, purchasing a new, dedicated slug gun for whitetail deer hunting can be a costly expenditure; however, they typically offer rifle-like accuracy and have the ability to use the latest, flattest-shooting sabots, which lengthens the effective range. With this, "gun" (i.e. shotgun) season in Midwest states such as Illinois correlates with some of the most productive days in the field, thus creating a conundrum for hunters.
Effectively, one must determine whether or not the boost in performance is worth the cost, especially given relatively short seasons and the likelihood of encountering a rut-driven, once-in-a-lifetime "trophy." Fortunately, Winchester offers a slug that provides equally impressive performance from rifled choke tube-equipped smoothbore shotguns as it does from fully rifled slug guns, so those without the means (or desire to part with it) can experience "premium" performance, too.
A mainstay in the Winchester line since 1997, the Super-X BRI Sabot Slug has an hourglass-shaped, hollow-point, lead-alloy slug contained within a two-halved sabot, which separates shortly after exiting the muzzle. In 12-ga. 2¾" and 3", the slug, which measures 1.207" long and 0.50" at its widest points, weighs 1 oz. and is propelled to 1350 f.p.s. and 1400 f.p.s., respectively, whereas the 20-ga., 2¾" offering has a 5/8-oz. version at 1400 f.p.s.Winchester Partition Gold 12 ga 3 inch Slug
Winchester Partition Gold 12 ga 3 inch Slug
Both the accuracy potential and terminal ballistics of Super-X BRI Sabot Slugs have proven notable to me on several occasions, the first of which was in preparation for an Illinois whitetail hunt with Riverview Outfitters. At the range, the 12-ga. Browning A-Bolt Shotgun Stalker, which was topped with a Nikon PROSTAFF SlugHunter 3-9X 40 mm scope, delivered three-shot groups measuring 1½" or less at 100 yds with the 3" Super-X BRI Sabot Slugs. The following morning the combination scored on my largest buck to-date, a 13-point taken at 40 yds., and in the evening I bagged a past-prime doe at about 70 yds.
The expended slugs exited both animals, and recovery was immediate. A month later, the same 3" load fired from a Sarsilmaz semi-automatic shotgun equipped with a rifled Rem Choke tube and topped with a Leupold 1-4X 20 mm VX-2 scope, accounted for a mature Virginia DMAP doe at a rangefinder-confirmed 149 yds. The slug exited the doe, and it quickly expired within 10 yds. of being hit. Although not as accurate as the Browning, the Sarsilmaz/BRI combination still grouped with 3" (or less) for three shots at 100 yds.
Such downrange performance illustrates the capabilities of an "everyday" smoothbore when fitted with a rifled choke tube using Super-X BRI Sabot Slugs. And, from a slug gun, they proved to be astonishingly accurate. MidwayUSA sells five-count boxes for $12.50 to $14, depending on the specific load, which is about $1-$2 less per box than Winchester's other "premium" slugs. To me, they represent a wise investment. Have you tried Winchester BRI slugs, and if so, what were your impressions? If not, what's your go-to slug. Click here to check out other products in General outdoors supply.
Winchester Supreme Partition Gold Slugs for sale
SPECIFICATIONS:
Category: SHOTSHELL SLUG LOADS
Gauge :12 Gauge
Type :BRI Sabot
Length :3 Inch
Ounces :1 oz
Shot Size :Slug
Muzzle Velocity :1400 fps
Rounds Per Box :5
Boxes Per Case :50
Application :Hunting